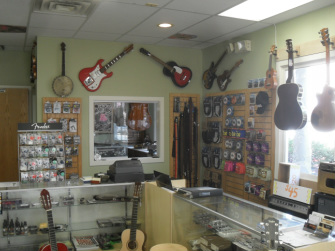 Welcome to Clinton Guitars !
We provide repairs and set up for guitars, basses, and most other stringed instruments. We also offer for sale, new and used guitars, basses, lap steels, banjos, ukuleles, oddball instruments, and all manner of accessories related to guitars and stringed instruments. Lastly, we are buyers for used instruments and offer consignment sales of your unused or unwanted equipment. We will display your consignment items in our shop and list them on our site as well as through appropriate auction sites.
My name is Roger Steinberg and I do the to repair or customization work on your prized possession or your nightly workhorse. I've been doing repairs and customization on my own ever changing collection for over 35 years as well as making repairs and adjustments for friends and acquaintance's instruments. Six years ago I received a comprehensive education in repair and set up work at the Vermont School of Lutherie, run by George Morris and decided to make this my next (last) career. We can repair or set up your instrument for it's best playability, provide advice for proper maintenance, or find you something new to play. Occasionally my son Eric (better known locally as Merv) may be here too. Eric is a graduate of the Bryan Galloup School of Lutherie and worked for years in some of the busiest shops in the nation. In addition, he was the trainer at the Northeast School for Fretted instrument Repair. He's doing other stuff now, but he is more than capable if you should meet him here. And now, over four years in, we're enjoying lots of repeat and referral business . We want to provide the best and most timely work in the area. All work is done on site and most work will be done within two days. "While you wait" service is available. I offer adult beginner guitar instruction at $30 per lesson. We also have a network of teachers for every skill level of player. I am always looking for instructors to whom we can refer prospective students so if you teach, contact u
Our specialty is "set up" work, making your instrument play it's best. Most guitars playability can be improved and almost all NEW guitars purchased on line or in volume retail shops NEED to be set up properly. Just because you just spent $1000 + on a new Strat or twice that on a Les Paul, doesn't mean it's been properly adjusted to play it's best. We also cater to professional musicians whose instruments need to be repaired and back in action quickly.
In addition we stock strings, parts, pickups from Fishman and L.R.Baggs, capo's straps, picks, cables slides, cases, tuners and humidification systems. If we don't have it...we usually can get it for you quickly and at a competitive price. We won't be the biggest, but we will be the friendliest most accommodating shop you're likely to find. Our focus is quality and service first at reasonable prices. Give us a try. You won't be disappointed
Contact us by phone at 908 894 5332, e-mail at
roger@clintonguitars.com
.com or stop in to our new shop at 6 East Main St. Clinton NJ 08809. We are near the corner of Leigh St. and East Main St. at the entry to Dickens Lane. Parking is available on East Main St. or in the public lot adjacent to the fire house across the street from the Post Office.
We open at 10:30 am Tuesday through Saturday closing at 7pm Tuesday and Wednesday, 8pm Thursday, 6pm Friday, and 4pm Saturday. Closed Sunday and Monday.
---